Afrika Film Deutschland Audre Lord Berlinale FREE TICKETS commUNITYpromo Black German AFROTAK TV cyberNomads Afrika Deutschland
February 14, 2012
Categories: Adefra, Afrika Berlin, Afrika Deutschlamd, Afrikanische Diaspora, Afrikanische Diaspora Deutschland, Audre Lorde, Berlinale, Black Heritage, Black History, Black History Month, Black History Month Berlin, Black History Month Deutschland, Black History Month Hamburg, Black Literature, Black Media, Black Women, Katharina Oguntoye, May Ayim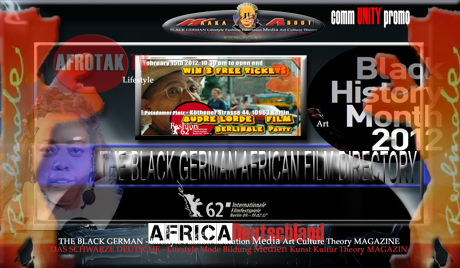 Black History Month Berlin Black History Month Germany Promo
Win 3 Free Tickets for the Audre Lorde movie 17.2. umd 17:30 in Cubix 7 @ Alexanderplatz – write SMS _Audre Lorde_ to 0163 258 3893
Win 5 Free Tickets for the Premiere Party @ Berlinale 15h feb, after screening! 22.30h at www.Homebase-berlin.net – with a beautiful programm!
It is exactly twenty years since the celebrated Afro-American poet and writer Audre Lorde died in 1992.
According to her own description of herself she was: 'a lesbian, a feminist, black, a poet, mother and activist'. In the 1980s Dagmar Schultz, who at the time was lecturing at the John F. Kennedy Institute at Berlin's Freie Universität, invited Lorde to Berlin as a visiting professor. This move was to have an enduring influence, for Lorde soon became co-founder and mentor of the Afro-German movement. In her documentary portrait, Dagmar Schultz distils hitherto unpublished and often very personal material of Lorde that portrays her among her Berlin women friends, fellow-travellers and students, many of whom she encouraged to begin writing. These women were later to become poets and academics; they were the ones to create the first German-language works about Afro-German history and racism. The film includes appearances from, among others: May Ayim, Katharina Oguntoye, Gloria I. Joseph, Ilona Bubeck, Traude Bührmann, as well as Ika Hügel-Marshall and Ria Cheatom, both of whom collaborated on the making of this film.
Write email to AFROTAK@cyberNomads.de to win 1 of 3 free tickets
Tags: African American, Afrika Deutschland, Afrika Medien, Afro German, afrotak, Audre Lorde, Berlin, Berlin International Film Festival, Black Berlin, black community, black history, Black History Month, Black History Month Berlin, Black History Month Deutschland, black history month germany, Black Women, German, Initiative Schwarze Deutsche, Katharina Oguntoye, May Ayim, Schwarze Frauen Deutschland, schwarze medien