Initiative Schwarze Deutsche BUNDESTREFFEN 09 AFRO Deutsche Black German Afrika Deutschland AFROTAK cyberNomads Schwarze Deutsche CommUNITY PROMO Black German Schwarze Deutsche Datenbank Netzwerk und Medienkanal Afrika Deutschland INITIATIVE SCHWARZE DEUTSCHE und Schwarze Menschen in Deutschland
August 8, 2009
Categories: African Union Diaspora Committee Germany, Afrika Medien, Afro Deutsch, Afro Deutsche Jugend, afrotak, AFROTAK cyberNomads TV GERMANIES FIRST BLACK VIDEO DATABANK, AFROTAK TV, Black Fashion, Black German, Black Media, Black News, Bundestreffen, critical whiteness, Cybernomads, Diskriminierung, Events, Identität und die afrikanische Diaspora in Deutschland, Initiative Schwarze Deutsche, Rassismus, schwarze deutsche, Schwarze Menschen in Deutschland, tahir della, WAAKA ABOUT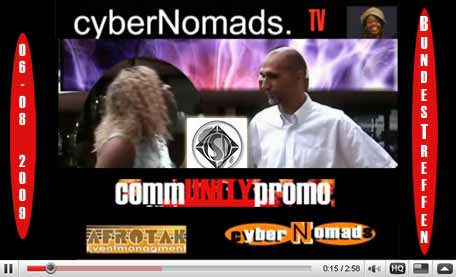 BUNDESTREFFEN. In August 2009 the German Black Community gathers again to see and define what Schwarze Deutsche can mean. Looking for the newest trends in Activities and success stories to share and distribute knowledge of oppression and liberation. The social networks of a virtual community brought together by the outside pressure of racism in Germany are exchanged for family ties having grown since 1985 and welcome to new community members are extended.
Black People from Africa, Israel, Brazil, Swiss, The Netherland, Austria or Black Europe in General as well as from around the Global Black Atlantic tend to drop in for an extended stay, to promote their projects or just a short visit.
Over the years new generations have grown and partly even already grown up to participate with the energy of knowledge that their parents already were activists. Most come to party and chill in an enviroment were white mainstream isn't determining the rules of who is beautiful and who isn't. With the rise of Black Germans or Afro Deutsche being the new IN Topic of Academic Research in the US of A the Black German Community from overseas represented by the Black Germans in the USA are becoming more and more curious and professionally interested.
And so is the white mainstream interested in deconstructing its own perspective in Critical Whiteness Studies. The questions we encountered when we were doing our shit in the 80ties definitely are changing, at least so in the major cities. And still so much groundwork has to be done over and over again. So it should be another interesting meeting coming up @ Bundestreffen 2009.
If you like to take a peep check the Remix of the historic AFROTAK cyberNomads TV 20-Jahre-ISD Feature (20 YEARS Initiative Black Germans Celebratory Feature) with Adetoun Kueppers-Adebisi doing her routines interviewing some of the protagonists of the Movement. To do so just click the Image Above.
For more Info on Bundestreffen check
http://www.isdonline.de/modules.php?name=Content&pa=showpage&pid=2
Tags: Africa Deutschland, African Union, Afrika Deutschland, Afro Deutsch, Afrodeutsch, afrotak, Black, black artist musik event, Black Berlin, black community, Black Education, Black Family, Black Fashion, Black German, Black History Month, Black Life Style, Black Media, Black Musik, Black News, Black Women, Cybernomads, Initiative Schwarze Deutsche, May Ayim Award, Rassismus und Sprache, schwarze deutsche, Schwarze Menschen in Deutschland, tahir della