AFROTAK cyberNomads were honoured with the Award Best Media by the German government Foundation Demokaratie und Toleranz
November 9, 2008
Categories: Afro Deutsch, Afro Deutsche Jugend, Black Fashion, Black German, Black Media, Black News, Cybernomads, Events, schwarze deutsche, WAAKA ABOUT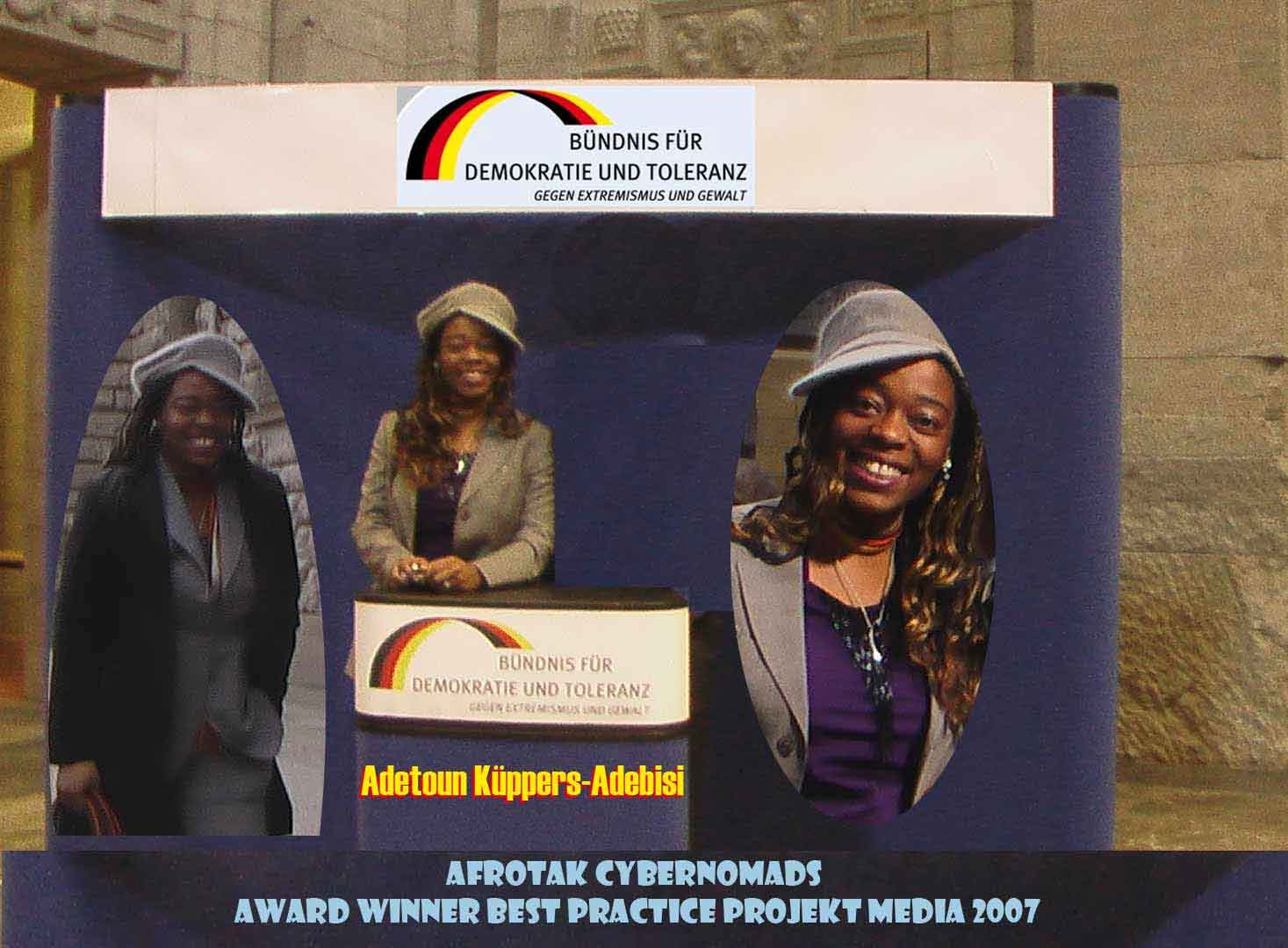 Good News! AFROTAK cyberNomads were honoured with the Award Best Media by the German government Foundation Foundation Demokratie und Toleranz for cyberNomads activities starting in 2001 as the First Black German Portal on Black Presence in Germany.
Other projects include the International Black Media Congress BerlinMay Ayim Award -The 1st black German Literature Award under umbrellaship ofUNESCO Germany. Amongst the Publications of cyberNomads are The Black Book- on African presence in Germany, the Dossier Afrikanische Diaspora in Deutschland on the Pages of the Office for public Education of the German Government (BPB) and the publication May Ayim Award featuring the entries of the literature competition.
Among the Awards recieved until now were Best Media Award by The African Youth Foundation in 2005 and honourable Mentioning at the Peace Award Bremen in 2006. In 2006 and 2007 cyberNomads published AFRO LOOK Online in cooperation with Ricky Reiser the offline editor of the Black German longest lasting media publication. Thus continuing a history of struggle and fight against German Racism and discrimination in the era of New Minority Media. Adetoun Küppers-Adebisi as the 1st Black woman to become an engeneer of economics in Germany is representing the Black diaspora Germany as elected Vice President of the African Union Diaspora Committee Germany since 2007.
cyberNomads AFROTAK as visionaries of Black German Media Online and Offline were the 1st to promote OBAMA in Germany and openend many doors in many institutions like Goethe Institute and Heinrich Boell Foundation Berlin were others may now follow
CONTACT:
Adetoun Küppers-Adebisi
Dipl.-Wirt. Ing. (FH) – Ingenieurin
Vize Präsidentin Diaspora Kommittee Deutschland mit Mandat der African Union (AU)
Telephone +49-30-44043257
Mobile +49 (0) 163 – 258 38 93
Eberswalder Strasse 4
D- 10437 Berlin
Auszeichnungen
2008 Best Practice Projekt/ Stiftung Demokratie & Toleranz BERLIN
2005 Best German Media Project/ African Youth Foundation BONN
2002 Finalist Social Business Projekt/ Bertelsmann Stiftung BERLIN
cyberNomads AFROTAK – Next Generation Diaspora Marketing
www.cyberNomads.de / www.cyberNomads.eu
adetoun.adebisi@cyberNomads.de
Tags: African Union, African Youth Foundation, AFRO LOOK, afrotak, Berlin, Black Book, Black German, black German Literature Award, Black German Media, Black Media Congress Berlin, Black Presence in Germany, BPB, Cybernomads, Diaspora Committee Germany, German Government, Germany, Goethe Institute, Good News! AFROTAK, Heinrich Boell Foundation Berlin, May Ayim Award, Media Award, obama germany, Peace Award Bremen, UNESCO