AFROTAK promotes Baobab African Cup Black Berlin 2008 Pan Afrikanischer Fussball Afrika Berlin AFROTAK TV cyberNomads Das Schwarze Deutsche Bildung Literatur Kultur Medien und Kunst Archiv/ Fernsehkanal
July 18, 2008
Categories: adetoun kueppers adebisi, Afrika Berlin, Afrikanische Diaspora, Afrikanische Medien Deutschland, Afro Deutsch, Afro Deutsche Jugend, afrotak, AFROTAK TV, Black Berlin, Black German, Black Media, Cybernomads, Diaspora, Events, michael kueppers adebisi, schwarze deutsche, schwarze medien, Schwarze Menschen in Deutschland, Schwarzes Berlin, WAAKA ABOUT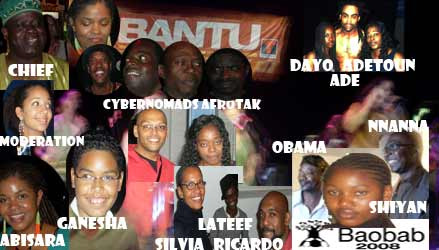 Baobab African Cup again organized by Nnanna (Prizewinner: Stiftung Demokratie und Toleranz) with Adegoke Odukoya (Brothers-Keepers initiator), Chief Shoyoye and Wife, Omoba (African-Beer Promoter) and daughter Adeshiyan (Student of Marketing from Austria).
Adeshiyan was doing the Catering with her father on the event and was well rewarded. She won the 2008 Tombolaverlosung a flight ticket to Nigeria. Ganesha Küppers was the 'Glücksfee'.
Adedayo Adebisi on her visit in Berlin was happy to hug her Godfather Adegoke performing BANTU on the venue. Abisara and Eko were on also grooving on stage and Africa was united.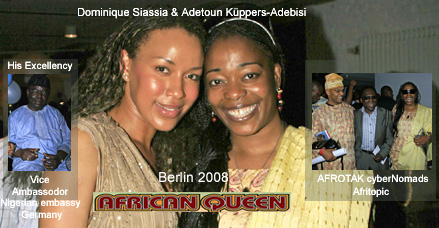 Tags: Afro Deutsch, Afrodeutsch, black artist musik event, Black Musik, Black News, Eko, Highlife